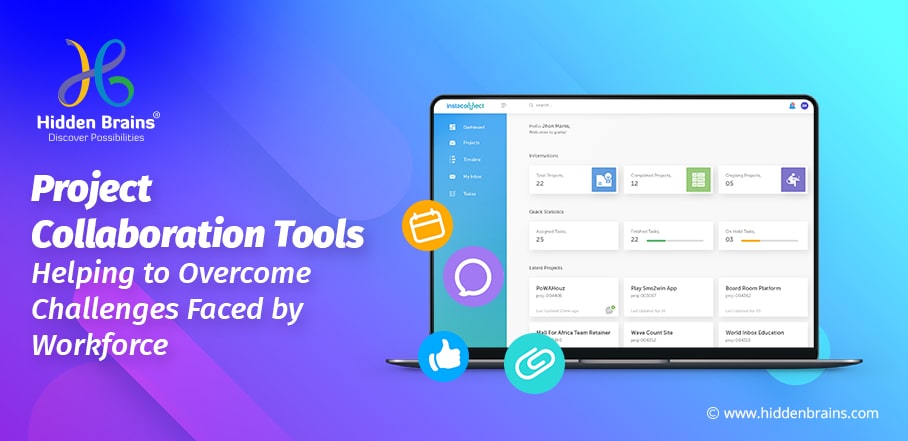 COVID-19 has made remote working a need of the hour. Companies are now focussing on equipping the workforce with a wide range of collaborative tools with the ultimate aim of working smarter, faster, and increasing productivity. Project collaboration software are shaping the way organizations work and employees communicate.
New technologies are transforming the old ways of communication and making things possible. Project collaboration technologies are extending the reach of teams beyond departments and branches.
Technology is changing not just decision making, but also increasing transparency. Team members are interacting with stakeholders to share ideas, applying best practices. The location constraint is no longer a problem.
There are several software tools to clarify and organize team processes and overcome challenges teams face, whether you are working in the same office or distributed work environments across different time zones.
Here are things to analyze before selecting project collaboration software:
Assess your team's requirements from a collaboration tool needs
Set maximum or minimum budget to guide you in choosing from among the tools to meet the needs of your workforce
Prioritize your core activities
Do you want a separate tool for each activity or comprehensive all-encompassing tool clubbing different activities
Analyze the pros and cons of different tools. Be clear on your organization's data security requirements to guide your selection
Consider the type of training requirement, if needed to ensure the best possible data security
Top Features of Project Collaboration Software
Keeping track of project progress
Sharing files and documents from anywhere
Centralize communication channels
Connecting team with video
Messaging
Calendar and scheduling feature
Option to record all project queries and track solution of all queries
Here are the challenges faced by organizations and their team members and how project collaboration software can help overcome these obstacles.
Challenge No 1:
One of the key roadblocks in planning, visualizing projects, and creating timelines for each and every team member involved and coordinating teams performing the work.
Solution: Kanban Tool
Project collaboration software comes with a Kanban tool, visual project management software to manage work at a personal or organizational level. This feature reduces the time required for planning, increasing visibility of the project, improving efficiency at all levels, and ultimately productivity.
Productivity witnesses an upward surge because each team member is aware of responsibilities both at the individual and team and level. Communication between the team is real-time more often than ever before with the focus shifting towards important tasks and problem-solving at a faster rate. The work progress is clear to all with this visual project management software.
The process and progress of work are finally clear and visible to all. And thanks to visual project management software you have more time to focus on more important things.
Challenge No 2: Inadequate and/or poor communication between team members
Communication is the key to success and the biggest challenge as well. Many times communicating organizational goals, project requirements and conflicting priorities to team members holds key to success. Very often there is a poor or complete lack of communication among team members.
Keeping the line of communication open and understanding and taking an effective course of action on feedback loops is a hurdle often faced by teams. This problem gets aggravated once teams work in different locations and different time zones.
Solution: Conversation Feature
This functionality allows seamless communication, as well as sharing & tracking all information and updates internally for all members throughout the project life cycle. There are several features like conversation categorization based on the project level, tagging, bifurcation based on internal and external communication within the team, and much more.
Challenge No 3: Access to work content and files, anytime, anywhere
File sharing and information dissemination are one of the biggest hurdles as very often information is lost in conversations, emails, different devices, or desktops. These devices make it hard to track feedback and the latest iterations in the project.
Solution: Seamless File sharing option
Seamless File sharing option gives administrators the right to assign single or multiple files to different project members. Organize all project files/documents all together with the option to download anytime, anywhere irrespective of the device or location. Project collaboration software provide features to categorize all files by all key modules for quick search of specific files.
Challenge No 4: Maintaining accurate reports and syncing the reports for departments.
Project Communication very often involves identifying types of reports, stakeholders, and different report formats & KPIs. Another problem is compiling reports for multiple department heads for analysis and evaluation.
Solution: Reporting and dashboard
The digital dashboard is one of the most critical features giving a bird's eye view of a project and performance. Empowered by analytics, the dashboard provides data-driven software solutions that ascertain the status and key performance indices of single or multiple projects under a portfolio.
Dashboards provide actionable insights at-a-glance of critical data and parameters pulled from different databases to provide details of milestones, status, action pending, and summaries of projects.
Conclusion
During troubled times and in wake of the new normal, resilient organizations are paving a way for technology-led connectivity. There is a solution for every business challenge to ensure that your team not just performs, but thrives in difficult times.
The key to success is creating a virtual environment, not just for your organization, but also for the health & well being of the team and the entire workforce. Collaboration tools can play an instrumental role in building a resilient organization. Are you ready for the change?