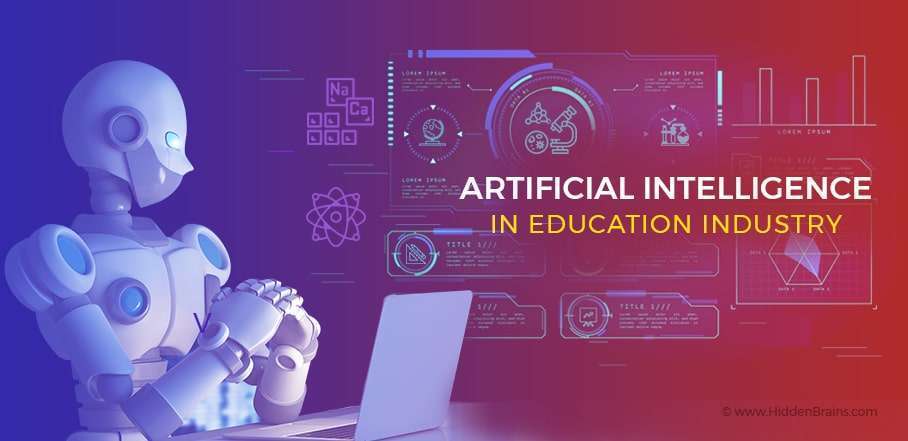 Artificial Intelligence solutions are slowly making a profound impact on our lives. It is soon becoming a mainstream technology. Whether it is automatic parking systems, smart sensors, and personal assistance by virtual assistants, Artificial intelligence is causing digital disruption in different industries. It is making its presence felt in the education industry changing traditional and conventional teaching methods.
The academic world is getting more high tech with convenient and personalized teaching experience thanks to the numerous applications of Artificial Intelligence in education. AI is helping breaking geographic barriers, eliminating the need to attend classroom trainings. The impact of AI on Education IT solutions is changing entire ecosystem, helping teachers automate administrative tasks and focus more on critical tasks such as spending more time with students.
Let's discuss advantages of AI and trends that will help transform the education sector.
What is Artificial Intelligence?
Making intelligent, human-like decisions based on facts.
Combine decisions with actions to either automate a human task or enhance user experience.
Ability to interpret human traits such as natural languages, speech patterns and images.
Analyze and act on structured data that's machine-and application-generated to replicate human intelligence.
Artificial Intelligence Statistics
By 2025, the global AI market is expected to be almost $60 billion; in 2016 it was $1.4 billion
Global GDP will grow by $15.7 trillion by 2030 thanks to AI
AI can increase business productivity by 40%
Businesses with more than 100,000 employees are more likely to have a strategy that implements AI.
Advantages of Artificial Intelligence in Education Industry
Collaboration
AI can identify gaps in learning and teaching. Drive efficiency, personalization and streamline admin tasks to allow teachers the time and freedom to provide understanding and adaptability.
Individualized Learning
Intelligent instruction design and digital platforms that use AI to provide learning, testing and feedback to students from pre-K to college level that gives them the challenges they are ready for, identifies gaps in knowledge and redirects to new topics when appropriate.
Automate Administrative Tasks
Educator spends a tremendous amount of time grading homework and tests. AI automate admin tasks and grading process, it opens up more time for teachers to spend with each student.
AI can come into the picture and offer several recommendations to bridge the gaps in learning.
Grade multiple-choice tests as well as assess written responses as well.
There is much potential for AI to create more efficient enrollment and admissions processes.
Tutoring and support outside the classroom
Ask any parent who has faced an uphill task of helping their teenage kids solve Algebra problem. It goes without saying that they will be thrilled to know about the potential of AI to support their children who often struggle at home with home assignments or test preparations.
Tutoring and studying programs are getting cutting-edge due to artificial intelligence, and soon they will be able to respond to a diverse range of learning styles.
AI & Education IT Solutions: Trends to Watch Out
Smart Content
Robots can generate digital content of similar quality as provided by different essay writing services. This technology has already reached a classroom setting.
Smart content includes several formats such as virtual content like video conferencing and video lectures.
AI systems are using traditional syllabuses to create highly customized textbooks for different subjects.
Textbooks are digitized and new learning interfaces are created to help students of all academic grades and ages.
Global Learning
AI-powered education equips students with fundamental IT skills.
With more inventions, there will be a wide range of courses available online and with the help of AI, students will be learning anytime,anywhere without the barriers of learning in the classroom.
Artificial Intelligence (AI) Conversational Interface
AI conversational interfaces are a subset of conversational user interfaces (CUIs), in which user and machine interactions occur in the user's spoken or written natural language.
Smart Campus
Smart campus is a physical or digital environment in which humans and technology-enabled systems interact to create a more immersive and automated experiences for university stakeholders.
Smart campus initiatives are in the early stages, but there has been a rising interest across higher education institutions.
Smart campus will drive growth in markets like robotic process automation (RPA) solutions and augmented and virtual reality (AR/VR) in the higher education space.
Campus efficiency will be enhanced and student learning will be enriched with the new capabilities they bring.
Predictive Analytics
Predictive analytics use historical data to recognize patterns and assess likely outcomes using statistical or machine learning techniques.
Calculating student demand for a certain course or identifying students at risk of failing, dropping out or transferring.
Predictive analytics can be a particularly powerful tool for CIOs in higher education.
Real power comes from the way these analytics systems socialize the prediction at hand among a range of stakeholders to remedy the issue at hand.
Nudge Tech
Nudge tech is a collection of technologies — "cloud, mobile, social and data — that collaborate and work together to provide both timely and personalized interaction with students, staff and faculty, such as text (SMS) reminder for class."
Help institutions to utilize data in order to create an impact behavior in order to form studying habits or make time for fitness in between classes.
Achieve personalization at scale to gain a key competitive advantage in an increasingly global and digital education ecosystem.
Digital Credentialing Technologies
Digital credentials are a natural evolution from traditional credentials to overcome instances of fraud.
Enable universities to leverage technology to improve the student experience by giving control over their information.
Driving a change in the delivery of higher education.
Finally
Undoubtedly, AI applications for education are being developed for different stakeholders such as mentors, trainers, teachers, educational institutions . This wave of application combined with smart content and digital credentialing technologies is transforming the education industry. The Education sector might be a late adopter of artificial intelligence and machine learning, but the changes will continue.