Hidden Brains received Bizz Awards for Business Excellence in Texas,USA. This award is a testament to the unwavering passion & dedication – to the mission, they start each day pursuing – which involves providing the best-quality product while delivering high-level service globally!
The whole Hidden Brains team is honored to be recognized with this award!
About Bizz
Established in 2004 in Houston, Texas, the BIZZ was created by the World Confederation of Businesses (WORLDCOB) to recognize Business Excellence in small, medium and large companies and industry-best practices. WORLDCOB is supported by an Evaluation Committee, an autonomous body, formed by a group of professionals with different specializations in business.
Evaluation Process
Hidden Brains was recognized for several aspects. The criteria evaluated are:
Business Leadership

Management Systems

Quality of Products and/or Services

Business Creativity and Innovation

Corporate Social Responsibility

Overall achievements and awards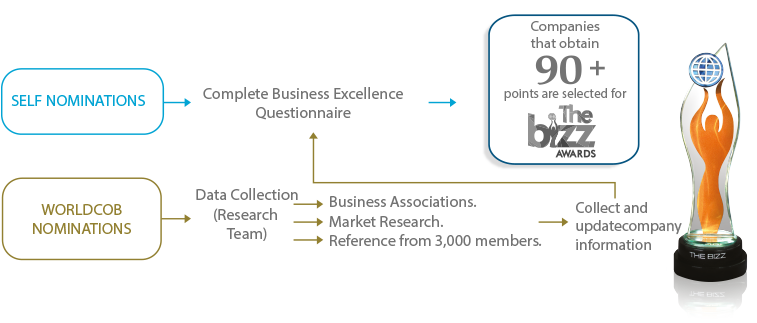 With an outstanding commitment to engineering, process quality, and customer satisfaction, this award recognizes Hidden Brains' track record of building innovative products- delivering a high level of service.
This award is a testament to our success in driving innovation in enterprise-level web, mobile and software solutions, igniting organization-wide transformation, and quickly addressing the requirements of operating during COVID-19 & new normal.
About Hidden Brains
Hidden Brains is a leading Enterprise Software & IT consulting company in India, providing robust and secure enterprise-level web, mobile and software solutions. We provide in-depth technology expertise, industry recognition & awards, global reach, as well as the ability to consistently deliver exceptionally high-quality and scalable solutions. Our company addresses complex business challenges across diverse industry domains like education, real estate, hospitality, security, healthcare, retail, banking, oil and gas with the latest and emerging technologies.
Hidden Brains emphasis and continuous focus was on digital transformation as well as acting as a growth catalyst for clients partnering in transformation journeys. Bizz awards also reflect Hidden Brains' agility, innovation, and technical prowess, to scale greater heights.
Clients all over the world know they can rely on Hidden Brains to deliver top-notch customer service while always upholding ethical principles. We thank our team members, clients, and business associates for supporting us throughout these years. We wouldn't be who we are without you all.
Thank you for everything and hope you continue to support us in the future!
Are you looking for world-class technology services to meet business objectives?
You may also be interested in