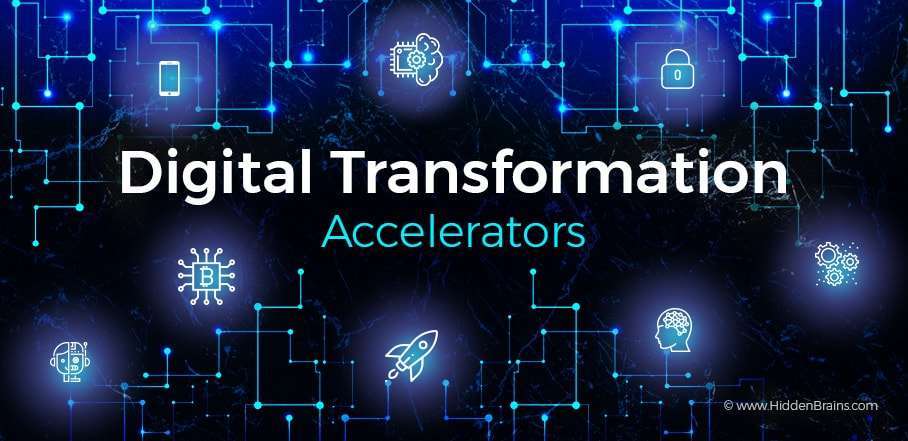 It is an era of digital transformation. New emerging technologies such as AI, analytics, cloud, and DevOps are transforming business landscape. Nowadays, executives from each and every industry – right from media, manufacturing to healthcare– are looking for Digital Transformation Consulting Services to change customer engagement, internal operations and even business models.
With technology being the driving force, the journey of digital transformation is not an easy one. Many technology leaders or decision makers are skeptical of change and innovation. Large companies are often burdened with legacy systems and conventional methodologies. The pace at which new technologies are being launched has reached its peak level. Digital transformation matters in practically each and every industry. It requires a combination of traditional transformation elements and cross-functional teamwork, as well as more digital elements, including agile delivery of technology, along all-journey transformation phases.
Roundup of Statistics: Digital Transformation
Big Data/Analytics (58%), mobile technologies (59%), private cloud (53%), public cloud (45%) and APIs and embeddable technologies (40%) are the top five technologies already implemented.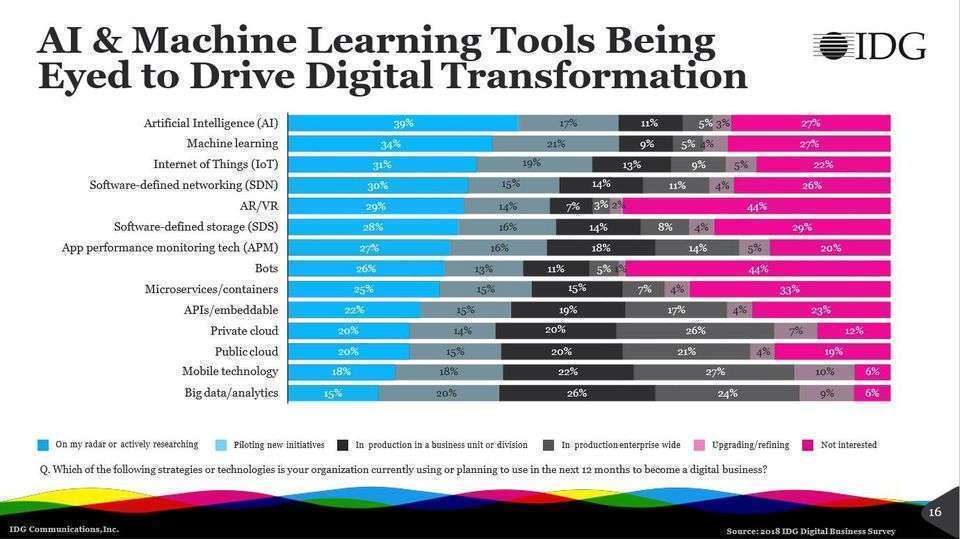 62% say delivering an excellent customer experience as measured by customer satisfaction scores defines success as a digital-first business.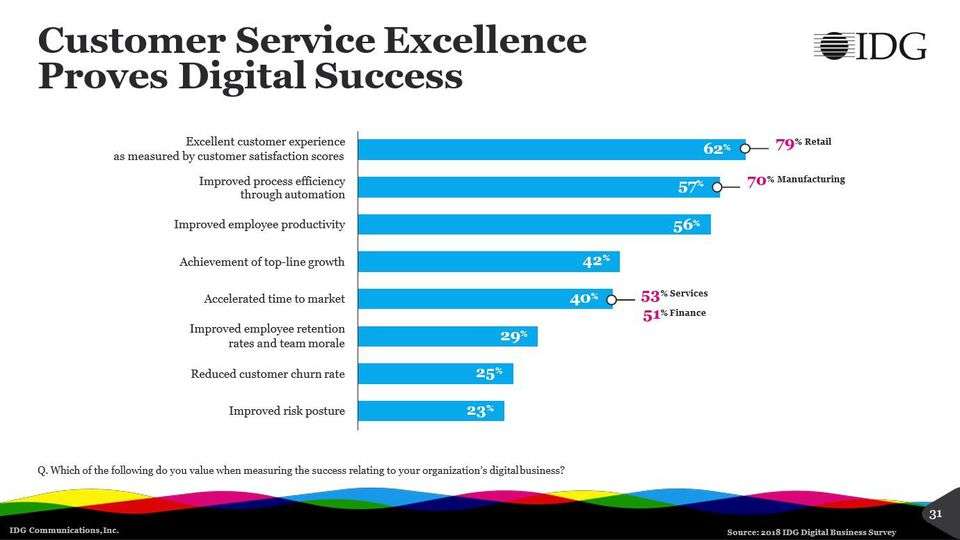 61% of enterprises say IoT plays a role in their digital business strategies with manufacturing and high-tech leading all other industries.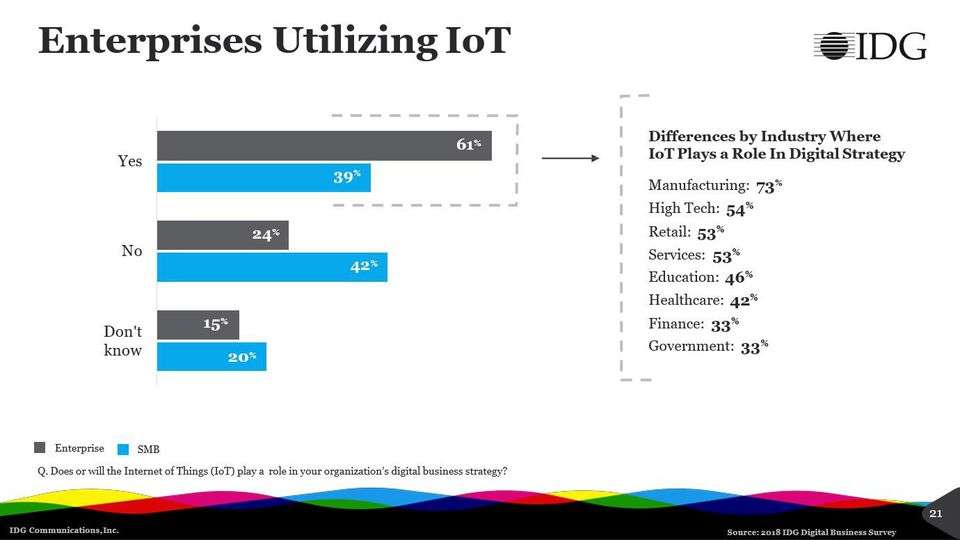 89% of enterprises have plans to adopt or have already adopted a digital-first business strategy with Services (95%), Financial Services (93%) and Healthcare (92%) leading all industries.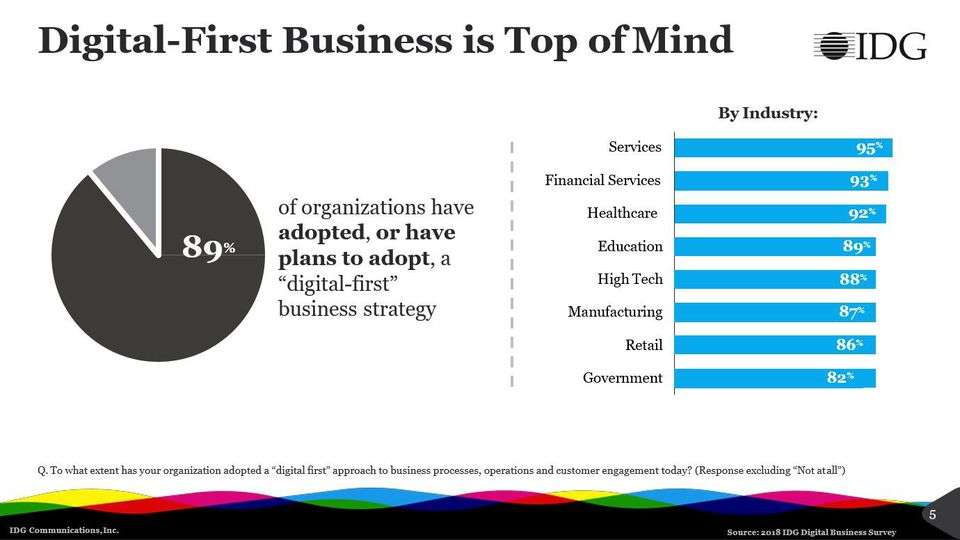 Before implementing digital transformation services & solutions it is important to analyze few factors at the starting point such as digital strengths, digital maturity and weaknesses. As a natural second step, it is necessary to benchmark against peers, the industry average, or industry leaders that help executives define an achievable goals for organization, develop a roadmap to attain targeted digital state, and initiate digital transformation.
1. Establish the technical foundations for digital transformation.
2. Build technological capabilities and talent.
3. Innovate at rapid speed. There are two ways that companies can give themselves a boost on the digital transformation path.
Organizations can augment their existing capabilities by focusing on high-value projects and they can partner with other organizations to gain access to complementary skills and resources.
Here are accelerators of Digital Transformation Services & Solutions
Agile and DevOps
It is about time to be agile in order to react faster to changing markets and come up with improved products and services. Companies need to create an extensive culture of experimentation, development, and validation. Agile and DevOps can be extremely useful in industries where it is pivotal to keep speed with fast-changing trends.
Your DevOps starts of with exploring your existing business procedures and delivery pipelines, and identifying business objectives you want your DevOps strategy to achieve.
DevOps adoption is important for the digital transformation. By eliminating the barriers between development and operations, DevOps enables software development in shorter cycles and quick time to market. But it requires a horizontal view of the organization that goes against conventional IT thinking.
Automation and Artificial Intelligence
The key to success is all about unraveling new opportunities in order to allow scalability and improve efficiency. Artificial intelligence and automation have the power to transform existing business models and unlock new opportunities. Large-scale businesses are now experimenting with AI to create high-performance AI applications. The key differentiator is using AI to augment human capabilities rather than just reduce headcount and costs. Employees can implement automation using AI technologies in order to attain tactical business goals.
Several innovative AI tools are giving companies new ways to create AI applications. Companies need to figure out the best ways to harness tools to develop useful solutions that meet client needs.
Insights driven
Data and analytics is the fuel of digital businesses. Many large organizations still have low adoption of data and analytics for decision making and new product development. To manage the coexistence of digital and legacy products, organizations need to accelerate the adoption of analytics as a fundamental capability and strategic business priority. This requires changing the culture to understand the value of using models and algorithms to develop insights into business issues and solve problems.
Digital Transformation Services & Solutions in Industry
Digital transformation in hospitality management
Digital transformation has transformation impact on conventional businesses. The hospitality management and travel industry is not an exception. Several digital transformation trends such as IoT, chatbot, virtual reality and more aim to put the customer back at the center of its strategy and operations. It is important to assess organizational structure and identify how data from online content and reviews might play a role in increasing booking. Latest advancement in this aspect revolve around Online Travel Agencies, service aggregators such as Booking.com.
Digital Transformation in e-commerce
Big players like Amazon.com, Alibaba.com have already disrupted the way consumers shop with massive data aggregation and shopping algorithms. Customization and personalization is going to the next level with availability of data keeping customer in mind. But the challenge lies in tasks such as avoiding sequence of events that lead to the security breaches and ensure safe transaction, improved customer satisfaction along with data security.
Digital Transformation in Training
With the increase of online learning tools, organizations are looking for more flexible ways per personal development. Using video based lectures, online learning communities and learning management systems allows to build new business models which disrupt the traditional lecture and classroom driven training sessions.
Digital transformation in Healthcare
Digital healthcare industry is presently witnessing a new revolution with the arrival of Internet of Medical Things (IoMT), a convergence of IoT, telemedicine and telehealth technologies. Chatbot technology is helping deal with simple and generic medical queries using AI-backed messaging and voice systems in an affordable manner. All thanks to the digital innovation in healthcare which has led to more and more healthcare organizations using data analytics to provide tools for seamlessly delivering healthcare services.
Finally
The world of digital transformation for today's enterprises requires effective management of legacy and new digital products in order to migrate into a digital enterprise. In order to navigate this transition successfully requires extending new digital capabilities as a journey that leverages technical expertise.