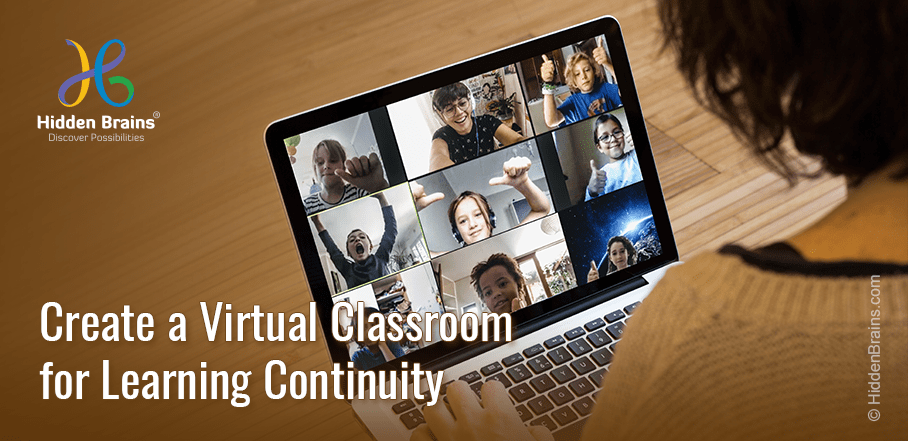 The education industry is at the cusp of change with a paradigm shift away from the classroom to online learning. The trend is likely to continue post-pandemic. Check what online virtual classroom features a must-have for eLearning applications.
After all, ensuring learning continuity during the time of school and university closures will continue to remain a priority for governments and educators all over the world. Several educators have turned to virtual classrooms, requiring teachers to move to online delivery of lessons.
Evolution of Virtual Classroom
The shift has not been an overnight change. Before the pandemic hit, education technology was already experiencing a surge in technology adoption, with global investments in the EdTech industry reaching US$18.66 billion in 2019 and the overall market for online education expected to reach $350 Billion by 2025.
There has been a significant surge in virtual classroom solutions such as language apps, virtual classrooms, video conferencing tools, or online learning software since COVID-19. The rise of ed-tech apps has given a new meaning to virtual learning, which is here to stay and maybe the future. Virtual classroom software development combines video streaming, collaborative tools, live quizzes, mock tests, and many other features.
This blog provides an outline of the features of the Virtual Classroom.
Student Panel
Onboarding: Sign up feature for students with Email ID, Phone Number, and OTP.
Video Streaming: Increased level of interactivity and intuitiveness in learning with video streaming.
Offline Videos: Option to download & view videos in offline mode to help students learn according to convenience.
Practice Tests: Feature to take tests according to a fixed time or create a test.
Test Report: Get reports based on different parameters such as total marks, time, attempted/unattempted questions.
Answer Keys: Evaluate answer keys for student performance, problem areas, and improvement in tests.
Live Class: Option to attend live video lectures and/or view recorded chapters.
Whiteboard and Polls: Option of Screen Sharing, Whiteboard & Live Polls to take interactivity among students during Live Classes.
Secure Payment: Secure payment with multiple options such as Paytm; options such as UPI, Internet Banking, Credit/Debit Card.
Multi-Lingual: Support several local languages and overcome the barrier faced in learning.
Teacher Panel
Teachers Panel: Ensure information sharing for qualified teachers to impart training to students. Effectively manage Courses, Subjects, and Topics.
Calendar: View upcoming classes as well as past class details.
Live Video Classes: Take Live video classes with tools such as whiteboard, live polls, and screen sharing.
Administrator
Intuitive Dashboard: View key performance indicators (KPI), metrics, and key data points.
Subscription Plans: Manage subscription plans based on your organizational goals.
Payment Tracking: Centralized system to keep track of payment and access duration-based reports.
Study Materials: Create a repository of study materials such as Videos & PDF and organize Courses/Subject/Topic wise.
Question Bank: Create Question Bank, as well as bulk upload questions through CSV.
Test Paper: Simulate the test environment for students with specific tests.
Report: Track users' performance and activities on the system with reports.
Manage Coupon Codes: Promotional coupon codes and offers to attract users on the system.
Tech Stack for Virtual Classroom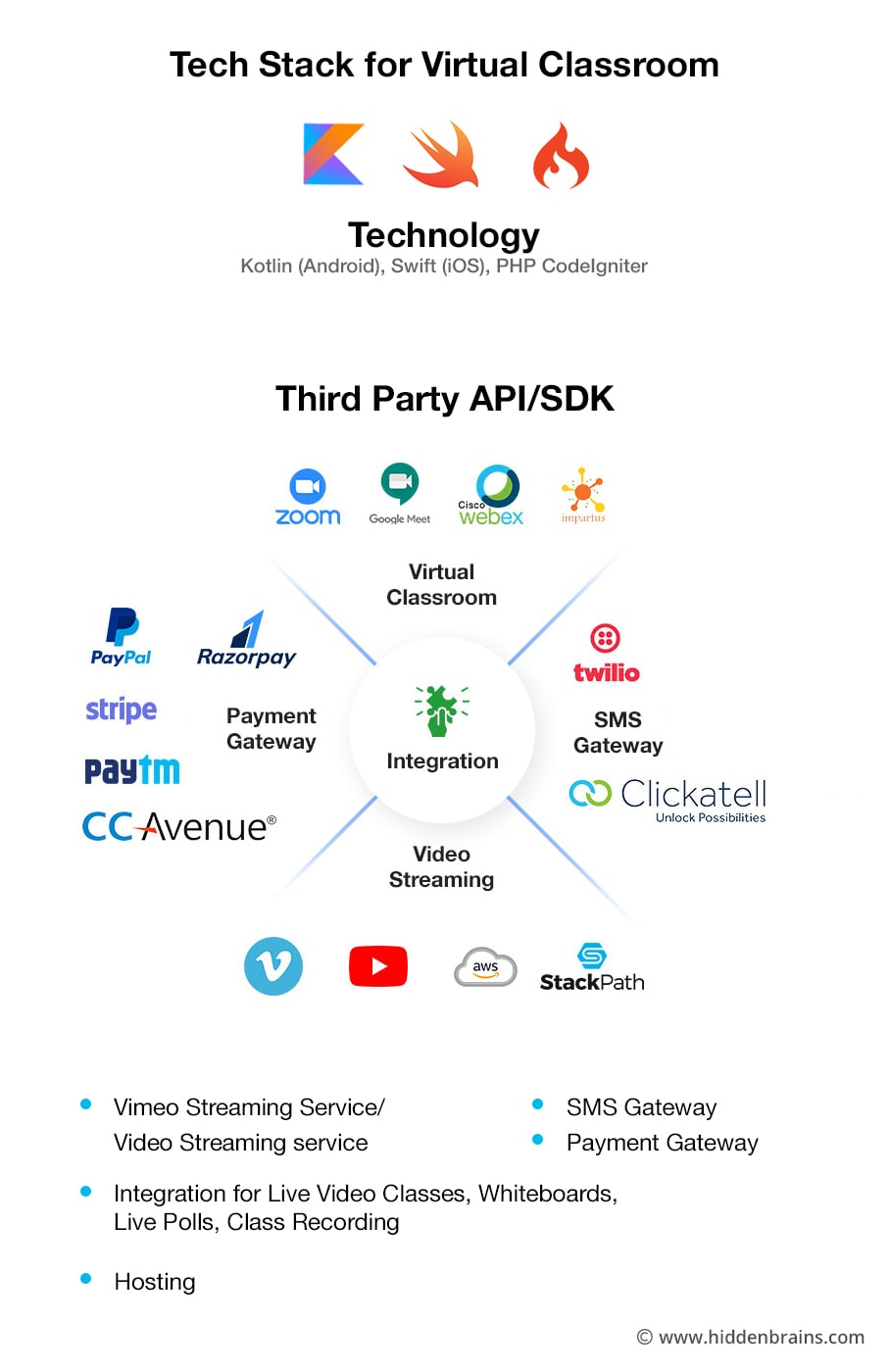 Why Choose Hidden Brains for Virtual Classroom Solutions
Hidden Brains offers technical expertise with strong domain knowledge. Our industry-best developers come with extensive experience and a proven track record of success. We have 19+ years of experience, and we are pioneers and early movers in building web and mobile applications.
For education entrepreneurs looking to ensure continuity of learning, it is important to conduct classes online. Whether it is meeting students' needs from pre-primary to university level, online education is here to stay.