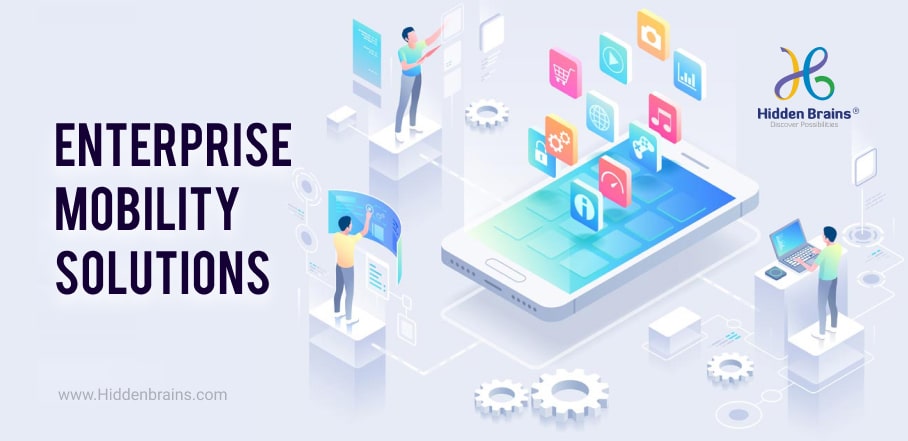 Enterprise mobility solutions come in many shapes and sizes, and each can be useful depending on the needs of your company or business. From mobile applications to tablet computers to smartwatches, there are several options that you should consider before selecting an enterprise mobility solution for your business.
There are many types of mobile apps that can be used in an enterprise environment. Mobile applications for field service personnel, such as technicians or sales reps, have different requirements than internal business apps. Applications for corporate-owned employees have different requirements than employee-owned devices. Regardless of your situation, there is a mobility solution that will fit your organization's needs and objectives.
This complete guide will help you learn about the most popular enterprise mobility solutions so that you can choose the one that's right for your business.
What is an Enterprise Mobility Solutions?
Essentially, an enterprise mobility solution is a set of technologies, applications, and business processes that allows people to access corporate data from anywhere on any device, including smartphones, tablets, and laptop/desktop computers. Enterprise mobility solutions can help companies be more productive by making it easy for employees—no matter where they are or what kind of computer they're using—to access all their corporate data securely. The most effective enterprise mobility solutions also help companies bridge communication gaps between business units, departments, and different workgroups. So rather than everyone in a company working off different servers and databases—often called silos—they have one set of data that's accessible by everyone throughout an organization.
Why are Enterprise Mobility Solutions a Necessity?
While businesses in all industry sectors are always finding new ways to be more productive, reduce expenses, and otherwise improve their bottom line. But just because your business has a mobile app or allows employees to work remotely doesn't mean it has a comprehensive enterprise mobility solution. By some estimates, only 10 percent of companies actually have an effective program in place. To help you avoid those pitfalls, here's what you need to know about what enterprise mobility really means for your business.
Mobile devices play a key role in today's business world and people rely on them more than ever. They're also an essential part of most businesses' strategies; enabling employees to do more with less by empowering them with mobile data. Mobile devices offer companies new ways to increase efficiency, productivity, and business development. And since many people are dependent on their smartphones for online services, apps can also provide new marketing opportunities for companies of all sizes.
As enterprises increasingly adopt mobility, so too do consumers. According to IDC Research, smartphone shipments worldwide will reach 1.43 billion units in 2015, with more than two-thirds of them being smartphones (1.06 billion). These devices are then turned into productivity tools through third-party apps that connect to corporate networks.
Enterprise Mobility Solutions (EMS)
The definition of a solution is a fixed combination of parts or elements. So, technically, an EMS can be defined as any combination of products and services offered by one or more vendors that help organizations create mobile strategies for business.
However, there are four main types of EMSs:
Mobile Device Management (MDM)
Mobile Application Management (MAM)
Mobile Content Management (MCM)
Bring Your Own Device (BYOD)
Each type has its own set of pros and cons. Let's take a look at each one in detail.
Mobile Device Management (MDM)
The goal of MDM is to ensure secure remote management of devices. An MDM solution allows for centralized control of various aspects such as
Operating systems
Apps
Configurations
Security policies and updates
The best part about an MDM solution is that it can be used on devices from multiple vendors. Usually, a customer relationship management (CRM) system or email server is used as a foundation for MDM solutions. However, with newer cloud-based solutions, there are no longer any software requirements other than a web browser.
This makes it easy to integrate into existing IT infrastructures and reduces costs. There are also several open-source options available if you want to build your own MDM solution. Many large companies have been using MDM for years, but more small businesses are starting to use it because of its ease of use and cost-effectiveness.
As organizations transition from traditional technologies like desktops and laptops towards new mobile technologies like tablets and smartphones, they need new ways to manage their workforce while keeping data safe. Mobile Device Management (MDM) enables organizations to set security policies on how employees use these devices at work while ensuring employee privacy is maintained through features like encryption technology.
Mobile Content Management (MCM)
MCM enables users to access company information anytime, anywhere, while allowing IT departments some control over security and permissions. It differs from a traditional mobile application in that it is more comprehensive in terms of data access and allows for real-time changes on remote devices. However, due to its great flexibility, MCM can be complex and expensive to develop.
If you plan on creating your own enterprise mobility solution or updating an existing one, it's important that you choose MCM over a standalone app when possible. In addition to being more cost-effective, it also provides better functionality and greater adaptability. The best way to know if MCM is right for your business is by asking yourself three questions:
1) Do we have secure information?
2) Is there sensitive data that needs to be accessed by employees at all times?
3) Can employees make updates from any location?
What is Mobile Application Management (MAM)
Mobile application management (MAM) is a combination of software, services, and security policies that keep businesses' data secure in their mobile apps. Data management features like backup and restores remote wipe, and profile provisioning help protect companies' sensitive information from end users' mistakes. MAM policies can lock down which apps employees can use on their phones or devices, and MAM enables IT departments to remotely wipe sensitive company data off of an employee's smartphone if it's lost or stolen.
While most companies are using some form of MAM for business-critical applications, only 30 percent are using them for all their company's mobile apps. To get started with enterprise mobility management, start by understanding what kind of apps you want to manage. Then you can figure out how much control you need over those apps. Finally, choose a solution that fits your needs and budget.
Why Choose Hidden Brains as Custom Enterprise Mobility Solutions Provider
Enterprise mobility management, or EMM, refers to a company's ability to provide its employees with the tools they need while maintaining security. The idea is to give workers flexibility while keeping data safe and secure. An EMM solution comes with several benefits for your business: Increased employee productivity: When employees have access to their data from anywhere, you can count on increased productivity in every department.
From sales associates working from home during bad weather or business development reps attending a last-minute client meeting out of town, having access to all devices gives them more freedom without compromising work. We can make deals faster and answer customer questions more quickly. Security concerns are also minimized because everything is controlled centrally by an iOS development company that knows what threats exist and how much risk is appropriate for different departments.